基于Infineon公司的ICL5101130W LED电源解决方案
127
拍明芯城
原标题:Infineon ICL5101130W LED电源解决方案
  infineon公司的ICL5101集成了PFC的谐振准控制器,支持通用的输入电压和宽输出电压范围,功率因素修正大于99%,THD小于5%,效率高达94%,超快点亮时间小于200ms,主要用在LED驱动器如大于50W的商业或住宅区照明系统,LED照明的电子控制装置.本文介绍了ICL5101产品亮点,主要特性和典型应用电路,以及130W CC LED电源演示板主要特性,电路图,材料清单和PCB设计图.
  The LED Resonant controller ICL5101is designed to control resonant convertertopologies. The PFC stage operates in CrCM andDCM mode, supporting low load conditions. Integrated high and low side drivers assure a lowcount of external components, enabling small formfactor designs.
  ICL5101 parameters are adjusted by simpleresistors only, this being the ideal choice to easethe design-in process. A comprehensive set ofprotection features ensures that the LED driverdetects fault conditions, protecting both the LEDdriver and the LED load. Figure 1shows a typicalapplication circuit of a 110 W constant voltage LEDdriver.
  ICL5101产品亮点:
  Resonant Controller and PFC within one IC
  Supports universal input and wide output range
  Low count of external components supportingsmall form factors and improved reliability
  All parameters set by simple resistors only
  Supports outdoor use by extended junctiontemperature range from -40℃ to +125 ℃
  Stable low load operation mode down to 0.1 %of nominal power rating
  Comprehensive set of protection to increasesystem safety
  Ultra-fast time to light < 200 ms
  Power Factor Correction > 99 %, THD < 5%
  High efficiency up to 94 %
  ICL5101 PFC特性:
  PFC in CrCM mode during nominal load andDCM mode in low load condition down to 0.1 %for operation without audible noise
  Adjustable THD compensation of AC inputcurrent even in DCM operation for lowest THD
  Adjustable PFC current limitation
  ICL5101谐振半桥特性:
  Fully integrated 650 V high-side driver
  Self-adaptive dead time control of the integratedhalf bridge driver 500 ns– 1.0 μs
  Detection of capacitive operation, overload,short circuitry, output overvoltage and externalover temperature protection to detecting hotspots in system
  Improved operation control in magneticsaturation during start-up
  Advanced error detection control
  ICL5101应用:
  LED driver, e.g. commercial or residentiallighting systems > 50 W
  Integrated electronic control gear for LEDLuminaires

  图1. ICL5101典型应用
  图2. ICL5101采用PFC/LLC拓扑的110W/54V LED驱动器电路图
  采用LCL5101的130W CC LED电源演示板
  This application note describes the characteristics and features of a 130 W SMPS LED demonstration boardwith constant Current output in a voltage range from 76 V down to 38V Vout. High efficiency, high PF, lowTHD and very stable output current during the output voltage rage, makes it very suitable to be used as aprimary power supply for low power systems, such as LED lighting. Its compact design and low BOM cost isdue to Infineon IC ICL5101 (CrCM PFC and resonant block are integrated together), which is used as maincontroller here. With this highly integrated smart IC, the circuit design is dramatically simplified, whichresults space and BOM cost saving. Furthermore, numerous monitor and protection features ensure highestreliability.
  Key specificationmeasurements and waveforms are also shown in this application note.This demo board consists of a CrCM PFC and a half-bridge LLC, whith constant current output stable from38V up to 76 VDC voltage.
  The PFC stage of this demo board is controlled by the PFC block of the ICL5101, which has an integrateddigital PFC control loop and improved compensation for low THD of AC input current. It operates in criticalconductionmode (CrCM) in a load range from10%to 100%to achieve a very good power factor and verylow THD.When the load is smaller than 10%, in order to limit the PFC switching frequency, the IC controlsthe PFC to operate in discontinuous conductionmode (DCM).
  The half-bridge LLC stage has a fixed duty cycle of D=0.5 and an adjustable self-adapting dead time from0.5 μs to 1 μs. The operation frequency starts fromtypical 135 kHz at start-up and decreases to a range ofbetween 45 kHz (full load) and 75 kHz (output open loop). The current variation is tested to be smaller than2%fromfull loadmaximum dimming. In addition,many other protection functions are also implemented,such as Output Short Circuit Protection of themain output (OSCP), LLC primary winding short circuitprotection (WSCP), Capacitive Mode Protection of themain output (CMP), LLC Over Current Protection(LOCP), over temperature protection (OTP) at certain hot spot on board andmore. These protectionfunctions are realized by the built-in protection functions of the IC ICL5101.
  130W CC LED电源演示板主要特性:
  • Input voltage range: 90–305 VAC
  • Input voltage frequency: 47–63 Hz
  • Regulatedmain output current: 1.7 A in a output voltage range from38VDC up to 76VDC
  • Efficiency at nominal load: ≥ 92.0 % at 230 VAC
  • Input current THD: <10%@> 50%Load at 230 VAC
  • Harmonics: According to EN61000-3-2 Class-D
  • EMI: According to EN55015
  • Safety : According to EN61347-2-13
  • Board dimensions: 178mm(L) x 52mm(W) x 32mm(H)
  图3.130W/76V-38V LLC CC LED电源演示板外形图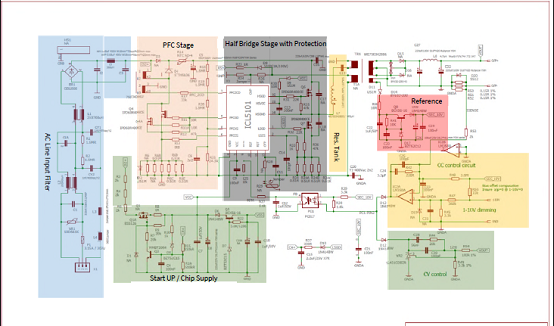 图4.130W/76V-38V LLC CC LED电源演示板电路图
  130W/76V-38V LLC CC LED电源演示板材料清单:
  图5.130W/76V-38V LLC CC LED电源演示板PCB设计图(底视图)

  图6.130W/76V-38V LLC CC LED电源演示板PCB设计图(顶层装配图)
  详情请见:

Infineon-ICL5101-DS-v01_30-EN.pdf

Infineon-EVALLEDICL5101E2-AN-v01_00-EN.pdf
【免责声明】
1、本文内容、数据、图表等来源于网络引用或其他公开资料,版权归属原作者、原发表出处。若版权所有方对本文的引用持有异议,请联系拍明芯城(marketing(at)iczoom.com),本方将及时处理。
2、本文的引用仅供读者交流学习使用,不涉及商业目的。
3、本文内容仅代表作者观点,拍明芯城不对内容的准确性、可靠性或完整性提供明示或暗示的保证。读者阅读本文后做出的决定或行为,是基于自主意愿和独立判断做出的,请读者明确相关结果。
4、如需转载本方拥有版权的文章,请联系拍明芯城(marketing(at)iczoom.com)注明"转载原因"。未经允许私自转载拍明芯城将保留追究其法律责任的权利。
拍明芯城拥有对此声明的最终解释权。
相关资讯
: