英飞凌 CoolMOS C7 800W Platinum服务器电源参考设计
1007
拍明芯城
  infineon公司的600VCoolMOS™ C7是第五代PWM控制器,具有超低开关损耗,集成了700V和800V超结MOSFET,具有成套保护特性如输入OVP,输入欠压保护(brown in/out),引脚对GND和OTP延迟.此外还具有自动重起恢复功能,以最小化系统中断工作,主要用在服务器,电信,太阳能和工业应用.本文介绍了600 V CoolMOS™ C7主要特性和优势, 60W隔离反激SMPS应用电路以及采用600 V CoolMOS™ C7和XMC数控的800W Platinum®服务器电源主要特性和框图,主板和控制板电路图和材料清单.
  The 600 V CoolMOS™ C7 series of devices offers a ~50% reduction in turn-off losses compared to the CoolMOS™ CP, offering a GaN-like level of performance in PFC, TTF and other hard-switching topologies. The CoolMOS™ C7 delivers an area-specific on-resistance (RDS(ON)*A) of just 1Ω per mm2, extending Infineon's portfolio of products with lowest RDS(ON) per package to support customer efforts to further increase power density.
  The 600 V CoolMOS C7 series features ultra-low switching losses and targets high-power SMPS applications such as server, telecom, solar and industrial applications requiring high efficiency and a reduced Bill of Materials (BOM) as well as low Total Cost of Ownership (TCO).
  Applications driven by efficiency and TCO, such as hyper-scale data centers and telecom base stations, benefit from the switching loss reduction offered by CoolMOS C7. Efficiency gains of 0.3% to 0.7% in PFC and 0.1% in LLC topologies can be achieved, leading to significant TCO benefits. In the case of a 2.5 kW server PSU, for example, using 600 V C7 MOSFETs can result in energy cost reductions of ~10% for PSU energy loss.
  In BOM and cost-driven designs such as enterprise servers, the 600 V CoolMOS™ C7 devices offer a cost reduction in magnetics. Due to the significantly lower gate charge and output capacitance, the C7 can be operated at double the normal switching frequencies with only a marginal loss in efficiency. This allows the size of magnetic components to be minimized, lowering the overall BOM cost. For example, doubling the switching frequency from 65 kHz to 130 kHz may reduce the magnetic component cost by as much as 30%.Rapid start-up with cascode configuration
  To achieve fast start-up performance, 5th generation controller utilize the high voltage MOSFET together with an internal current regulator to operate the start-up sequence in a safe and rapid manner, which is commonly known as cascode configuration.Upsized zero crossing counters for valley detection With the implementation of 10 zero crossing counters, the ability to detect AC line input level and an intelligent adaptive digital algorithm (patent pending), it enabled the5th generation controller to minimize the spread of switching frequency under differentAC line input conditions. This innovative approach has enabled SMPS designers to designwith higher switching frequency to take advantage of smaller magnetics and lowering ofsystem BOM cost.
  Run cooler with CoolMOSTM P7 family In tandem with Infineon's leadership in the area of high voltage superjunction MOSFETs,the latest 700 V and 800 V CoolMOS™ P7 families will be integrated together with the 5th generation controller in a single package.CoolSETTM is available in both through-holeand SMD packages and thereby eliminates the need of heatsink and reduces BOM countwith a small footprint.
  Comprehensive suite of protection features In addition to the typical output protection such as output short, overload and overvoltage protection, the 5th generation controller is incorporating additional protections todetect abnormal line input conditions such as over-voltage and under-voltage protection.
  Similarly, in-system-protection has been further enhanced with the introduction ofVCC and CS pin short to ground to prevent controller damage during abnormal start-upconditions and OTP has been enhanced with hysteresis to improve operational faulthandling. To minimize interruption to system operation, all protection modes areimplemented with auto resume to enhance user experience.
  600 V CoolMOS™ C7主要特性:
  ››Integrated 700 V and 800 Vsuperjunction MOSFET withavalanche capability
  ››Comprehensive suite of protectionwhich include input OVP, brownin/out, pin short to GND and OTPwith hysteresis
  ››Innovative quasi-resonant switchingscheme to minimize frequencyspread under different line inputconditions
  600 V CoolMOS™ C7主要优势:
  ››High efficiency with latestCoolMOSTM P7 family andquasi-resonant switching scheme
  ››Auto-restart recovery scheme tominimize interruption to systemoperation
  ››Extensive protection coverage toincrease system robustness
  ››Rapid start-up performance withcascode configuration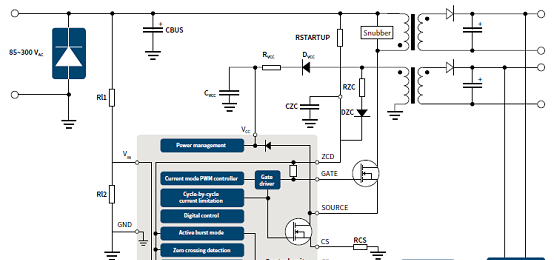 图1.60W隔离反激SMPS应用电路
  采用600 V CoolMOS™ C7和XMC数控的800W Platinum®服务器电源
  This document introduces a complete Infineon system solution for an 800 W server power supply, which achieves the 80Plus® Platinum® standard. The power supply is composed of a Continuous Conduction Mode (CCM) Power Factor Correction (PFC) converter and a half-bridge LLC DC-DC converter. This document focuses on the necessary microcontroller configuration and the implemented control for adequate system performance, which is demonstrated with test results.
  The Infineon components used in the 800 W server power supply are:
   600 V CoolMOS™ C7 superjunction MOSFET in TO-247 4-pin and TO-220 packages as well as 650 V CoolSiC™ Schottky diode Gen5
   40 V and 25 V OptiMOS™ 5 MOSFETs
   1EDI20N12AF isolated and 2EDN7524F non-isolated gate drivers (EiceDRIVER™)  XMC1402 and XMC4200 microcontrollers
   ICE2QR2280G CoolSET™ QR flyback controller
  图2.800W Platinum®服务器电源外形图
  The 600 V CoolMOS™ C7 MOSFET technology in soft-switching topologies like the LLC working at a resonant frequency around 150 kHz
  The isolated and the non-isolated gate drivers from the EiceDRIVER™ IC family
  The flexibility and performance power of the XMCTM microcontrollers for server power supplies
  800W Platinum®服务器电源主要特性:
   Attractive compact design in 30 W/in3 form factor
   Efficiency that outperforms the Platinum® efficiency standard throughout the entire load demand at both 115 V AC and 230 V AC, as shown in Performance and steady-state operation Figure 41 in section 6.1
   Low Total Harmonic Distortion (THD) and high PF response, as shown in Figure 42 and Figure 43 respectively, from 20% of the load
   Fully digital control implementation in both the PFC boost converter using XMC1400, as described in the Power factor correction stage section, and the LLC resonant converter using the XMC4200, as described in the LLC resonant DC-DC converter section
   High performance achieved by using Infineon Technologies best-in-class devices:
  o Single TO-247 4-pin 600 V CoolMOSTM C7 SJ MOSFET in the PFC boost converter, along with a single TO-220 650 V CoolSiCTMschottky diode Gen5
  o TO-220 600 V CoolMOSTM C7 SJ MOSFET on the primary side of the LLC resonant converter and OptiMOSTM 5 40 V and 25 V as Synchronous Rectification (SR) and ORing MOSFETs, respectively
  oEiceDRIVERTM 1EDI isolated and EiceDRIVERTM 2EDN non-isolated gate driver ICs
  o QR flyback controller ICE2QR2280G CoolSET™
   Robust and realiable operation under different abnormal conditions:
  o Smooth inrush current during start-up as shown in Figure 46
  o Power Line Disturbance (PLD) events, like AC Line Drop Out (ACLDO) as described in Table 8, as well as voltage sags as describes in Table 9
  o Brownout reaction .
  o Load-step reponse at different abrupt load changes.
  o Over Current (OC) condition reaction as described in the Over Current Protection (OCP) section, as well as the response of the PSU in case of a short-circuit event.
   Fully compliant with both peak and average Class B conducted EMI EN 55022 standard limits.
  图3.800W Platinum®服务器电源框图
  图4.800W Platinum®服务器电源的功能布局图(正面)
  图5.800W Platinum®服务器电源的元件布局图(背面)

  图6.800W Platinum®服务器电源控制板和XMC MCU主要特性图

  图7.800W Platinum®服务器电源主板电路图:PFC级电路图
  图8.800W Platinum®服务器电源主板电路图:LLC级电路图
  图9.800W Platinum®服务器电源主板电路图:辅助电源,包括控制板和NTC温度传感器连接器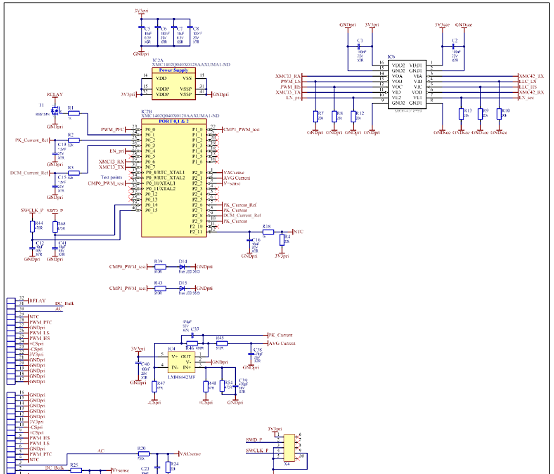 图10.800W Platinum®服务器电源控制板电路图:初级边控制器(XMC1402)
  图10.800W Platinum®服务器电源控制板电路图:次级边控制器(XMC4200)
  主板材料清单(BOM):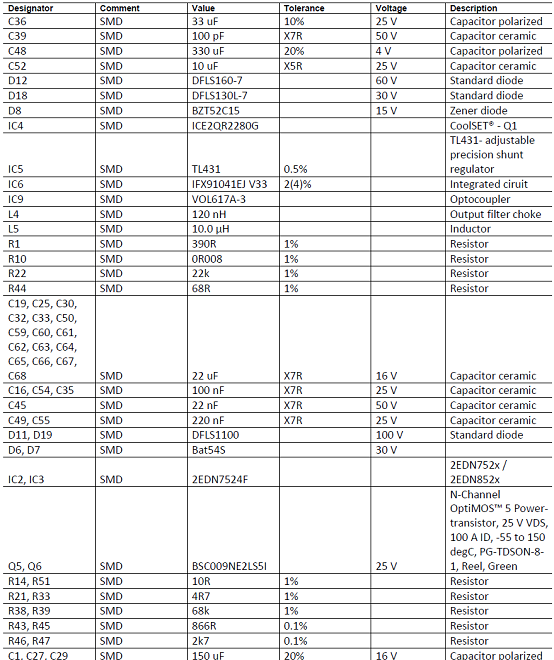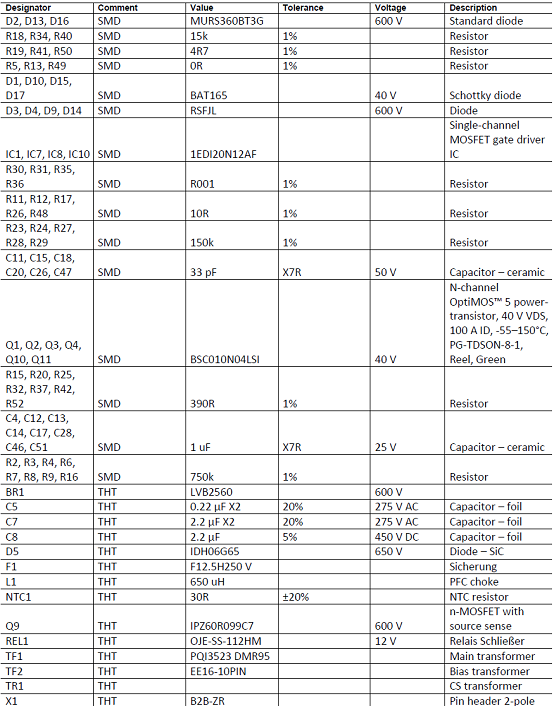 控制板材料清单(BOM):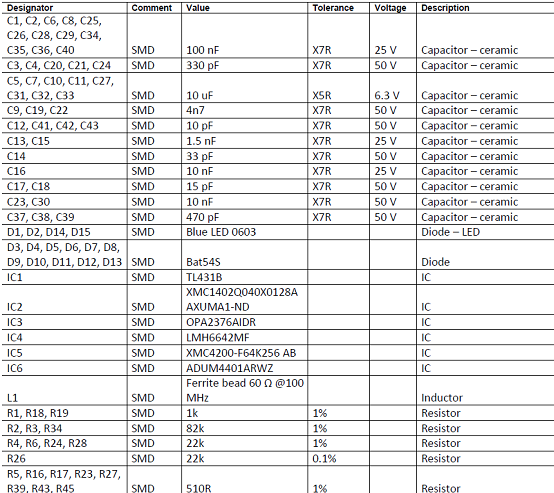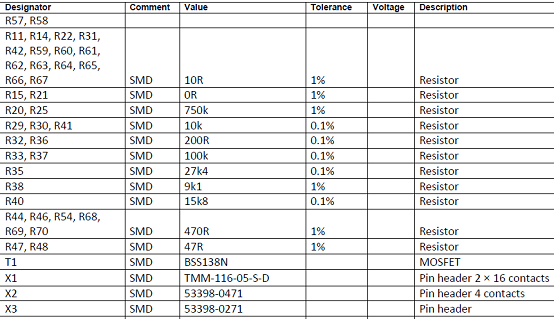 Infineon公司是全球十大半导体制造商之一。1999年5月1日,西门子半导体公司正式更名为Infineon,总部设在德国慕尼黑。主要生产汽车和工业电子芯片、保密及IC卡应用IC、通讯多媒体芯片、存储器件等。1998年Infineon公司是全球十大半导体制造商之一。该公司在全球亚、欧、美三大洲5个国家拥有10个制造工厂,在九个国家设有16个研发中心,1998年员工约25,000人,主要合作伙伴有Motorola、IBM、MoselVitelic等。
  据权威机构07芯片生产排行,infineon公司排在Intel、SAMSUNG、TI、ST之后,为全球第五大芯片生产商。
  其总部在德国的慕尼黑,企业文化: never stop thinking. 在中国苏州投资成立奇梦达,主要生产内存条,并允许北京瑞田达公司代理其电子产品。
  英飞凌在法兰克福证券交易所(股票代码:IFX)和美国柜台交易市场 OTCQX International Premier(股票代码:IFNNY)挂牌上市。
  详情请见:

Infineon-ProductBrief_QuasiResonant_CoolSET_Generation_5_PWM_controller-PB-v01_00-EN.pdf

Infineon-ApplicationNote_EVAL_800W_PSU_4P_C7-AN-v01_00-EN.pdf
【免责声明】
1、本文内容、数据、图表等来源于网络引用或其他公开资料,版权归属原作者、原发表出处。若版权所有方对本文的引用持有异议,请联系拍明芯城(marketing(at)iczoom.com),本方将及时处理。
2、本文的引用仅供读者交流学习使用,不涉及商业目的。
3、本文内容仅代表作者观点,拍明芯城不对内容的准确性、可靠性或完整性提供明示或暗示的保证。读者阅读本文后做出的决定或行为,是基于自主意愿和独立判断做出的,请读者明确相关结果。
4、如需转载本方拥有版权的文章,请联系拍明芯城(marketing(at)iczoom.com)注明"转载原因"。未经允许私自转载拍明芯城将保留追究其法律责任的权利。
拍明芯城拥有对此声明的最终解释权。
相关资讯
: